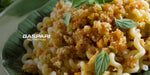 A Healthy Hearty Meal For a Cold Winter Night
Usually meals that are qualified as "hearty," "stick to your ribs," "comfort foods," are breeding grounds for all kinds of saturated fat calories to make their way into your diet. Is it possible to prepare a bold, chocked full of flavor, healthy meal? Of course it is. This is one of my favorites. It's made with tons of onions that get cooked down into the most amazing flavorful sauce that goes a long way.
1 LB boneless, skinless turkey thigh, cut into large pieces, with the obvious pieces of fat removed

4- 5 Large yellow onions, halved and thinly sliced (about 10 cups)

2 cups chicken stock

2 TBS grated Parmesan cheese

2 tsp salt

1 tsp black pepper

8 oz of your favorite shaped pasta

Cooking spray
Season the turkey thighs with the salt and pepper, spray a deep pot with cooking spray and brown the turkey meat, over high heat. Once well browned, turn the heat down to "medium," and add the sliced onions, covering the meat and filling the pot. If all the onions don't fit, wait a few minutes until those in the pot cook down and make more space. I know, it's a lot of onions. But, as you'll soon find out, they're mostly water. Leave the pot uncovered so that all that water can evaporate as it slowly boils away. This step is going to take quite a while, probably 40 min – an hour. Maybe more. Just let it go until all the liquid is gone. Then add the chicken stock, ¼ cup at a time, stirring continuously until it evaporates, then add another ¼ cup. Repeat this step until all the stock has been incorporated and you are left with a thick brown sauce. Turn off the heat and add the grated cheese, and stir it in. By now, the meat should have completely fallen apart and be incorporated with the onions.
Cook the pasta in lightly salted water until it's "al dente." Drain it, while retaining about a cup of the cooking water off to the side. Add the pasta to the sauce and mix it in. If the result is too thick for you, thin it out with some of the reserved pasta water – use the pasta water because it contains the starch that boiled out while it cooked. That starch works as a thickener without watering down any flavor.
This recipe makes four servings, each containing:
Calories - 388

Carbohydrates - 55g

Protein 28g

Fat 5g