On Sale
SizeOn
Gaspari Nutrition SizeOn¨ Max Performance Benefits:
Speeds up Protein Synthesis & Muscle Force Recovery

*

Heightened Muscle Volume, Muscle Fiber Size, Cell Volume & Plasma Amino Acid Levels

*

Intensifies S6K1 and 4E-BP1 Signaling and Hypertrophic mTOR Pathway Conduction

*

Initiates & Maintains Myogenesis and Muscle Recovery While You Are Still Training

*

Transports Vital Nutrients, Essential Minerals, and Growth Cofactors To Skeletal Muscle Tissue.

*

Harnesses the Insulinotropic Power of Pterostilbene

*

Contains the never before seen LOLA, our cutting-edge, amino acid salt L-Ornithine-L-Aspartate that cuts down on ammonia in the body!

*
Gaspari Nutrition takes sports nutrition to the highest level with SizeOn - The Ultimate Hybrid Intra-Workout Amino Acid & Creatine Formula. The original SizeOn became known as the King of Creatines and by utilizing the latest advances in clinical research, this award-winning formula is better than ever! SizeOn contains high-quality whey protein hydrolysate, which is clinically proven to absorb even faster than free-form amino acids. SizeOn also boasts a premium creatine formula, high-performance carbohydrates, a high dose of L-Leucine (4 g), and many more anabolic-promoting ingredients. SizeOn contains the revolutionary ingredient L-Ornithine-L-aspartate (LOLA), which has been shown to reduce ammonia and improve psychometric function. L-Ornithine-L-aspartate is able to reduce high blood ammonia levels induced either by ammonium chloride or protein ingestion. Furthermore, LOLA decreased protein breakdown and stimulated protein synthesis in muscle.*
Click Here to Download SizeOn Brochure
SizeOn brings these carefully selected ingredients together for unparalleled increases in athletic performance, skeletal muscle recovery, explosiveness and most notably, immediate increases in muscle size WHILE YOU ARE STILL TRAINING.*
Gaspari Nutrition has formulated a product that will literally put Size On your body. With its top of the line research driven formula, SizeOn stimulates lean muscle synthesis due to the potent combination of creatine and the high-quality whey hydrolysates.
The whey hydrolysate that includes over 50% di and tripeptides as well as a large array of pro-anabolic promoting components such as a high dose of L-LEUCINE (5 grams) to allow for unequaled support in athletic performance, skeletal muscle recuperation, explosiveness and most particularly, nearly instant increases in muscle size.
SizeOn¨ Maximum Performance promotes both muscle growth and muscle recovery to get you functioning at the highest performance levels.
FREQUENTLY ASKED QUESTIONS:
Q: What is the difference between the new version of SizeOn and the original?
The new version of SizeOn contains high amounts of whey protein hydrolysate, leucine, along with more carbohydrates and the insulinotropic powerhouse pterostilbene. All in all, it is a much more advanced product based on cutting-edge research.*
Q: Can SizeOn only be used by bodybuilders or can athletes looking to build muscle mass and enhance their recovery use it as well?
SizeOn can be utilized by anyone wishing to speed their recovery, build muscle mass, and increase performance whether in the gym or for athletic competition.*
*These statements have not been evaluated by the Food and Drug Administration This product is not intended to diagnose, treat, cure or prevent any disease.
Customer Reviews
Write a Review
Ask a Question
Filter Reviews:
workout
carbs
size
pump
taste
creatine
muscles
best
energy
recovery
11/22/2020
john .
United States
I recommend this product
size on
great product, been using for 10 years, :)
11/10/2020
Lawrence T.
United States
I recommend this product
Always gives desired affect
Great everything
10/19/2020
Anonymous
United States
I recommend this product
Great product
Sizeon is a great intra workout. I know my muscles are getting what they need for a great workout. The taste is great. I have tried different flavors and all great. Thanks
10/13/2020
Fernando M.
United States
10/05/2020
Patrick B.
United States
I recommend this product
Great
Good stuff. Pump is amazing. Stamina is noticeably better.
09/28/2020
SG-1089-5625 J.
United States
I recommend this product
It works!
I remember first using this product 2 years ago on legs day and it blew my mind. Approximate increase in strength and endurance by 20% from the get go. I've never looked back since. Recommended to add a scoop of Proven EAA to SizeOn and sip on it intra-workout! Gaspari has never gone wrong when it comes to taste and this Grape Cooler tastes like the juiciest grapes everrrr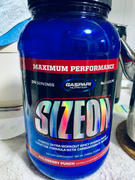 08/19/2020
Dwayne F.
United States
I recommend this product
Great for energy and building muscle
This works great, i love the energy it give me and helps recovery.
07/14/2020
Joseph F.
United States
I recommend this product
Size on
This is a great post work out recovery drink if your trying to get bigger... In my case I don't use it any more... the carbs are to much for me. I have need to cut avoid the carbs but this is very good product. I use gaspari hyper amino and amino last fuel instead which is better for me. But have no fear of purchase size on works and is good product.