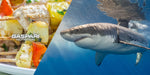 Shark is an incredible source of lean protein, if for nothing more than just its name, has "bodybuilder" written all over it. It has a taste and texture similar to swordfish, only less fishy.  It's readily available at most fish markets, and is relatively cheap compared to premium cuts of swordfish, Chilean sea bass and high end tuna. It's pretty versatile too. These kabobs are one of my favorite ways to cook shark. Under your oven's broiler, or on the grill, These shark kabobs can be made in bulk and used for several meals down the road. 
Ingredients:
1 lb shark steaks, cut into 1 inch cubes

1 lb cherry tomatoes

1 lb large mushrooms

1 large onion, quartered and cut into 1 inch slices and  separated 

½ cup low sodium soy sauce

2 TBS lime juice

1 TBS honey

12 inch bamboo skewers
Soak skewers in water for an hour prior to prep – this will keep them from burning during cooking. Alternately skewer onion, shark, tomato, and mushroom. Repeat until skewer is full. Set aside.
In a small bowl, whisk together the soy sauce, lime juice and honey. Broil or grill kabobs on all sides. Basting with the sauce before and as they cook, every five minutes for 15 minutes, until shark is done. 
This should make about four skewers, each containing:
Calories 229

Carbohydrates 18g

Protein 26g

Fat 5g