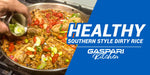 Spending time in the south, I've come to know some great regional dishes. One of them is "dirty rice." Now, due to the array of fatty ingredients and the cooking method, you really can't make traditional dirty rice and call it a "healthy meal." However, you can take the concept and the process and massage it a bit and make a version of dirty rice that definitely qualifies as "healthy" and still gives you tons of down home flavor and texture.
Ingredients:

1 package Italian turkey sausage

1 med red onion, chopped
1 1/2 cups chopped celery
1 1/2 cup defatted chicken stock
4 canned plum tomatoes, chopped
1 tbsp chopped parsley
2 green onions, thinly sliced
3/4 cup chopped fresh tomato
1 tbsp olive oil
2 tbsp chopped sage
1/4 cup white wine
1 cup parboiled white rice
Salt and pepper to taste
Directions:


Using a regular (*not non-stick) pan, heat the olive oil and add the onion, celery and a pinch of salt.


Cook over medium heat until the onions and celery become soft and caramelized. Push them to the sides of the pan and arrange the sausages in the open space and brown them on all sides.


Once browned, add the white wine and deglaze the pan. Then add the chicken stock, chopped canned tomatoes, a pinch more salt, pepper (some hot sauce if you like) and the sage.


Raise the heat and bring it to the boil, then add the rice. Mix well, cover it, turn the heat all the way down and let it cook for 20 minutes.


After 20 minutes has gone by the rice should have absorbed almost all the liquid. Turn off the heat the top with chopped fresh tomato, parsley and green onion. Cover the pan again and let it sit for 10 minutes.

The package of turkey sausage I used contained five links, with the following individual nutritional breakdown:

Calories: 150
Carbohydrates: 1g
Protein: 16g
Fat: 8g

So, I split the recipe into fifths, using one sausage link and a fifth of the rice mixture to calculate the following nutritional info for each complete serving:

Calories: 356
Carbohydrates: 46g
Protein: 19g
Fat: 11g