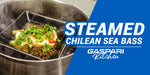 Chilean sea bass is one of the most expensive fish you can buy. That being the case, a fool proof way to cook it is what you need. And I'm the man for the job.

Ingredients:
2 - 4oz chilean sea bass filets

1 tbsp sliced fresh ginger root
2 tbsp chopped cilantro
2 tbsp sliced green onion
1 tbsp sliced sweet hot chilies
2 tbsp soy sauce
2 tbsp Mirin (rice wine)
1 tbsp toasted sesame oil
1 tbsp lemon grass
Directions:
Combine soy sauce, mirin sesame oil and lemon grass into a deep flat plate and mix well.


Add the fish filets and coat both sides. Cover filets with ginger and sweet chili slices and place in a steamer. and steam for 15 - 20 minutes.



Turn off heat, top filet with green onion and cilantro, cover again and let stand for five minutes, until the cilantro and green onion wilt.