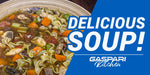 Stretch your meal's volume by making soup.
When calories are restricted it seems like cravings and the will to stuff yourself increase. How can you stretch those meager diet portions? Make soup! For very few added calories, you can get a lot of milage bit of a little bit of food.

Recipe:
1 cup chopped celery

1 cup chopped carrot
1 cup canned plum tomatoes
1 1/2 cups chopped onion
1 cup sliced mushrooms
8 oz chicken breast, cut into chunks
1 tsp salt
1/2 tsp black pepper
1 tbsp extra virgin oil
4 cups chicken stock
1 tbsp chopped basil
Directions:


Heat 1 TBS olive oil to a pre heated 4 quart sauce pan and add the onion, salt and pepper.


Lower the heat and cook the onion until it's browned and well caramelized. Add the chicken and sauté with the onion until the chicken turns white - about three min.


Then add the chicken stock, tomatoes, celery, carrots, mushrooms and basil.



Bring to a boil, lower the heat and simmer for 20 - 30 min, or until the celery and carrots are tender.

The entire dish contains:

Calories: 880
Carb: 44g
Protein: 101g
Fat: 24g

With 1 cup no yolk noodles:

Calories: 1083
Carbs: 84g
Protein: 109g
Fat: 25g