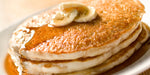 Ingredients:
6 egg whites
1/2 cup quick oats
1 scoop MyoFusion (Flavor of choice)
2 TBSP sugar free pancake syrup
Directions:
Mix egg whites, quick oats, and MYOFUSION together in a bowl or blender. Heat a nonstick skillet over medium-high heat and spray with non-stick cooking spray. Pour 1/4 cup of pancake batter onto the pan, and let cook until bubbles appear on the surface. Flip with a spatula and cook other side.
Total cooking time:
about 5 minutes per pancake.
Top with sugar-free syrup and serve.
Gluten-Free
Make Gluten-Free pancakes by substituting 4oz cooked sweet potato (skin removed) for the oats. Follow the same cooking instructions.
Don't Like Syrup? Try one of these other toppings:
1 TBSP almond butter
Combine 2 TBSP plain, fat-free greek yogurt with 1/3 scoop of MyoFusion for icing
2 oz of mashed banana
1/3 cup of MyoFusion for dusting