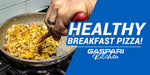 When you follow a healthy fitness lifestyle, your diet revolves around a few basic foods. Following any diet is best accomplished by keeping things as simple as possible. But, follow it long enough and you will eventually concoct your own special healthy dishes that you gravitate to when you crave something that's not so plain. This is one of those dishes. My daughter calls it "breakfast pizza," my son calls it "that pasta egg thing..." Whatever you want to call it, I can promise you you'll love it!

Ingredients:

1.5 cups cooked spaghetti

1/2 cup chopped canned tomatoes or marinara sauce (https://youtu.be/n0u9SgO1Ftw)
3oz cooked chicken breast (https://youtu.be/IxGZ_NqA_FM)
1 tsp olive oil
1 tbsp grated parmesan cheese
1.5oz 2% mozzarella cheese
1 clove minced garlic
1 tbsp chopped basil
4 egg whites
salt and pepper to taste
Directions:

Heat the olive oil in a non-stick pan and add the garlic. Saute until golden and add the tomatoes, basil, salt and pepper.


Cook for a minute or two and add the pasta. Toss to incorporate, then add the chicken and heat through. Arrange the mixture evenly in the pan and add the egg whites. mix well to incorporate them, add the parmesan and let the eggs cook until set.



Then, with a rubber spatula, mush up the egg whites and flip it all around. Ass the mozzarella and let cook until the cheese is melted and the eggs fully cooked.

This recipe is for one serving containing:

Calories: 480
Carbohydrates: 53g
Protein: 40g
Fat: 14.5g