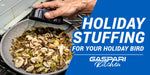 Turkey stuffing is a staple at many holiday tables. Here's a quick, easy, super clean, low calorie alternative to what grandma makes. You'll love it!


Ingredients:
2 cups Italian turkey sausage meat

2 cups cooked rice (https://www.youtube.com/watch?v=SPN2d-toOhI&t=2s)
2 eggs
2 cups chopped celery
1 tbsp olive oil
2 cups diced onion
2 tbsp grated Parmesan cheese
1 cup sliced mushrooms
1 cup white wine or chicken stock
1 tsp salt
1/2 tsp ground black pepper
Sage or parsley to taste
Directions:

Brown the turkey sausage meat in a non stick pan, over high heat, adding the olive oil to the meat after the water has evaporated away.


Then add the onion, celery, salt and pepper and mix it together.


Once the onion and celery wilt and become translucent, add the mushrooms.


Toss the mixture around and let it cook over medium heat until all the liquid has evaporated away and pan starts to sizzle.


Add the white wine or chicken stock, and and let most of that evaporate off. At that point, add the chopped herbs and set the mixture aside to cool.


Meanwhile, beat the eggs with the parmesan cheese. Once the meat and veggie mixture has cooled to the touch add the cooked rice and the egg/ cheese mixture and mix until all is well incorporated.



Spray a small ceramic casserole pan with cooking spray, spread the stuffing evenly and bake in the same 400 degree oven you just took the turkey out of, reduce the heat to 350 and back for 30 - 40 minutes, or until crisp on top.

Serve with your holiday bird, or enjoy it as a meal.