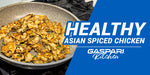 In response to a follower's request, this is my healthier interpretation of a chicken dish served at his favorite local Chinese restaurant. I think it came out pretty close, he agreed, so here it is. It's really easy to make and you can make a bunch of it at once so you can stretch it if you're doing meal prep.
Ingredients:

20 oz boneless, skinless chicken breast, cut into short slices (I used fajita chicken in this vid)

2 green onion, thinly sliced
2 tbsp soy sauce
1 tsp toasted sesame oil
1/4 tsp hot chili oil
1 tbsp corn starch
2 tbsp sesame seeds
salt and pepper to taste (if you used regular soy sauce you might not need any more salt)
Directions:

Combine all the ingredients, except the corn starch, with the chicken and mix well with your hand. Once all is well combined, add the cornstarch, and continue mixing until all the chicken is coated.


Next, spray a preheated, non-stick pan with cooking spray and add all the chicken pieces, moving them around until they are spread out evenly over the surface of the pan. Pay attention to the heat - too hot and the soy sauce will burn. The cooking spray can also burn. So, keep an eye out.



Cook the chicken for 2-3 minutes, until you see the slices turning white around the edges, and flip them over. cook on the other side for another 2 -3 minutes, then toss them around a few times and you're done.
One 6 oz serving contains:

Calories: 435
Carbohydrates: 11g
Protein: 65g
Fat: 18g