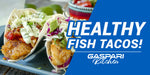 Healthy fish tacos are made really easily using a poached fish filet from a previous episode (https://www.youtube.com/watch?v=JF3NVKyfvrg&list=PLu9f_nDQuTh-crNahQVzHndTS-wZ1sgFG&index=3).

Ingredients:

1 poached fish filet

2 tbsp prepared salsa (I like Willy's)
1/4 small avocado
1/2 cup shredded cabbage
2 tbsp Goya black bean soup
squeeze of lime
1 oz low fat cheddar cheese (optional)
chopped cilantro
Directions:

Spray a non-stick pan with cooking spray and slide in the fish filet. It can be cold, right out of the fridge. (That's the great thing about having these cooked ahead of time.


All I'm doing here is crisping up the outside. Since the fish is already cooked, a few minutes in the frying pan isn't going to stink up your kitchen).


While that's going on, lay out the tortillas and spread a little cheese down the middle. So, why the cheese? Other than the fact that it tastes amazing for very few grams of fat, I'm using it to replace the mayonnaise they use in Mexico. They do that for the same reason Americans slather their hamburger buns with mayo. You're basically water proofing the delicate, flower based item that would more easily fall apart if it got soaked with juice from the burger, tomatoes, ketchup, salsa, beans..... of course you can omit this step and just grab an extra napkin.


If you did use the cheese, lay half a crisped fish filet on top of the cheese (the filet should have automatically split down the middle when you flipped it over), grab the tortillas up by the ends, and lay them back in the pan to melt the cheese.


Once the cheese melts, slide the tacos onto a cutting board and pull them open.



Top the tacos with shredded cabbage, avocado, black beans, salsa, cilantro and lime.

For both tacos you get:

Calories: 345 (not including the Corona)
Carbohydrates: 13g
Protein: 29g
Fat: 8.5g