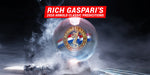 I really don't like to make predictions about contest outcomes, particularly for contests as big and as important as the Arnold. In order to make such a prediction, I can only do it fairly if I can imagine everyone being at their best. You can't really do it any other way.
I am, however, expected to give my Arnold predictions, in spite of what I might feel about making predictions about guys I haven't seen – and it wouldn't matter if I have seen them anyway, because the only time when it's gonna matter how they look is still weeks away, and in bodybuilding contest prep, that's an eternity. I would expect that anyone competing in such a prestigious show would work like we did back in the day to come in at a crisp 100%, leaving no stone unturned. But, that just doesn't seem to happen anymore. I'm just being realistic. At least be grateful this isn't stock car racing where if you're not 1st you're last.
In any case, at 100% dialed in - at their best - my top five for the 2020 Arnold Classic are:
5th Place
I'm going round off my top five with Sergio Oliva Jr. If he does his homework he can really be dangerous and not only break into the top five, but also stir it up!  I see hints of his father in his physique and am especially interested to watch young Sergio reach his full "Oliva" potential. 
4th Place
I'm going to have to put Dexter Jackson in 4th. I fully respect the fact that he is a Mr. Olympia and a past Arnold Classic champion several times over, and the most winning bodybuilder in history. I also think it's astonishing that, at 50 years old, he can be so competitive in this field that he could easily walk away with another one.  It all depends on how the other guys show up. Dexter, at his best, at his age, could easily make it six Arnold wins and break his own all-time record of 29 pro titles, making it an even 30. He's that good and he proved it.
3rd Place
I'm going to say Patrick Moore could take 3rd.  He's new and has a good look, and he just placed 10th in the Olympia on his first try. This guy has incredible shape with a tiny waist who can do a vacuum! His arms and legs are huge and he's got a great V-taper. He's like a Classic guy that's too big for his height class. I believe this guy is the future and, in time, be Mr. Olympia. 
2nd Place
I have Big Ramy. If he shows up in the kind of shape he did at the New York Pro he could give Bonac a lot of trouble, and possibly beat him. But, that's a big IF.  He seems to have a hard time peaking. I don't know if he's being poorly advised, or he just mentally has a difficult time of it, but, he hasn't been reliable. A lot of people, me included, think he could be an Arnold Classic champ AND a Mr. Olympia, but he's got to prove himself and this will be the show to do it.
1st Place
I have William Bonac taking the show. Out of all the guys competing he is the most complete, with the best shape, size, density and definition. Bonac, at his best is the guy to beat.
Feeling Lucky? Tell Us Who You Think Will Win...
Submit Your Predictions for a Chance to WIN a $100 Gaspari Nutrition Gift Card
Up to 5 winners will be chosen from among those who get the top 5 correct!!!