On Sale
DTN8 - EXPLOSIVE FAT BURNER
EXPLOSIVE FAT BURNER
Explosive Energy† – from natural sources such as Green Tea Extract, Green Coffee Bean Extract Guarana Seed Extract, and Yerba Mate Extract
Extreme Fat Burning† – from natural thermogenic such as capsicum, black pepper extract, ginger root and Grains of Paradise
Laser Mental Focus† – from natural nootropics such as Huperzia Serrata and L-Tyrosine
Adrenal and Stress Support† - from Ashwagandha Root Extract, 5-HTP and L-Theanine
Gaspari finally answers the call for an effective fat burner that, not only incinerates body fat but also covers three other key areas to create the ultimate explosive fat burning and energy experience. First and foremost, I wanted to make a true thermogenic that had every proven ingredient to liberate and incinerate body fat. Then, to fuel your fat-burning workouts, my fat burner also had to give you smooth energy with natural stimulants. Not the edgy anxiety that makes you feel like you're crawling out of your skin. Next, I wanted to make sure I added ingredients that help with mental focus to help you concentrate in the gym. And finally, because stimulants and thermogenics can increase cortisol (which is catabolic), I wanted to include proven ingredients that support the adrenal glands to help keep cortisol levels in check. New DTN8 accomplishes all that and more. With the most powerful array of synergistic fat burning and energy components available today, DTN8 is the ultimate fat destroyer you've been waiting for.
Recommend use: Take 1 to 2 capsules in the morning or early afternoon. Do not exceed 2 capsules per serving. Never take more than 2 servings in a 24 hour period. For best results use daily for a minimum of 30 days
Disclaimer: Regular exercise and proper nutrition are essential components for achieving your fat loss goals.
†THESE STATEMENTS HAVE NOT BEEN EVALUATED BY THE FOOD AND DRUG ADMINISTRATION.  THIS PRODUCT IS NOT INTENDED TO DIAGNOSE, TREAT, CURE OR PREVENT ANY DISEASE.

Customer Reviews
Write a Review
Ask a Question
Filter Reviews:
energy
Jitters
DTN8
appetite
burners
results
workouts
Focus
Gaspari
feeling
12/22/2020
Dawn D.

Canada
I recommend this product
Still on the fence
I just ordered another package. Giving it an extended trial. Just ordered another package. Definitely have a lot more energy. Thinking it may take a little longer to see the "fat burning results"
12/22/2020
koikodiac@gmail.com

United States
12/02/2020
amanda f.

United States
I recommend this product
Great Product
This product is really great. I have noticed a major increase in my energy levels and ability to focus, and feel that my appetite is much more controlled. I will definitely continue to use this product.
11/14/2020
Todd F.

United States
I recommend this product
Great product
Curved my appetite and gave me energy!
10/22/2020
Britney c.

United States
I recommend this product
Impressed so far
Shipping was quick I've been on a week now and I'm down 4 lb appetite has decreased and love of sodas has almost gone away they have an off taste to me now. Make sure you drink plenty of water and remember to eat or you could feel sick like I did. Can't wait to see extended results!! So excited!!
I
10/20/2020
Israel

United States
I recommend this product
A steady focus
I just started taking this about a week and a half ago. I stack it with viradex xt in the morning and I feel the clear-headed focus lasts all day. I honestly can't say if the fat burning aspect is working yet, but maybe I'll see results once I get closer to the 1 month mark. For now, the subtle energy makes this product worth the money on its own!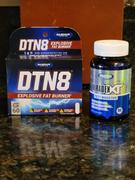 10/16/2020
Zakary N.

United States
I recommend this product
Great product
Been using it for a while now and it works great for energy. The fat burning side is still undetermined. Doesn't make me jittery either
10/14/2020
Luis

United States
I recommend this product
Good fat burner
Nice clean energy through out the day no jitters great product