On Sale
PROVEN JOINT™
PROVEN JOINT™
ATHLETIC PERFORMANCE FORMULA†
Short and long term two-stage effect†
Helps reduce inflammation†
Can comfort joint pain†
Supports joint and bone health†
Helps relieve joint stiffness†
Gaspari Proven Joint is a focused, two-stage, sports joint support formula that contains a proven array of vitamins and minerals to support long term joint and bone health, as well as anti-inflammatory factors for immediate joint support. With an anti-inflammatory blend that includes bromelain, turmeric, white willow bark, and ginger, Gaspari Proven Joint is formulated to help reduce acute joint inflammation and stiffness due to overuse, minor injury and intense training. The second stage supports long term joint and bone care and protection with proven components such as glucosamine, chondroitin, calcium, manganese, boron and more. Intense training, particularly over the long term, can be very stressful on your joints. Gaspari Proven Joint is formulated to help provide immediate relief from the pain and limited mobility caused by inflammation, so you can train. Proven Joint also can help prevent joint injuries down the road with proven long-term support for joints and bone.
SUGGESTED USE:
As a dietary supplement, take 1 serving (3 tablets) up to twice a day with food.
Customer Reviews
Write a Review
Ask a Question
Filter Reviews:
achiness
wrists
newbie
whim
fitness journey
pain
three
lifting
difference
advice
11/21/2020
dclurch519@aol.com
United States
I recommend this product
Proven Joint effectiveness
I have quite a bit of joint pain from 32 years of heavy lifting in a warehouse. I have been taking various joint supplements with Glucosamine, Chondroitin and MSM for YEARS ! On the advice of my trainer, I started taking Proven Joint and it really seems to help. Instead of taking 12-15 tablets of the other stuff a day, I take just two tablets of Proven Joint three times a day and it does the trick. Only on REALLY bad days do I go over the 6 tablets daily.
I
10/22/2020
Israel .
United States
I recommend this product
Easier workouts
I ordered this on a whim. As a newbie to the fitness journey, I started noticing that the heavier the weights got, the more my wrists, knees, etc. were all starting to ache. So I gave it a shot and I'm glad I did. It's helped with achiness and made it easier to lift heavier. Great product for guys in their 40's like me!
09/28/2020
SG-1089-5625 J.
United States
I recommend this product
Proven Joint
Tablets are pretty big compared to Anavite tablets which are already pretty big. Had a wonky wrist which bothered me for months (due to heavy resistance band training at home during lock down). Taking these for 2 months now and it seems to help heal my wrist and also arrest light strains from incorrect form during training.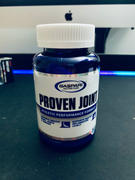 07/23/2020
jose n.
United States
I recommend this product
Finally!!
joints felt better no pain, did help a lot. ordering more.
07/03/2020
David V.
United States
I recommend this product
good product
I take daily and I can really tell the difference
03/10/2020
Nicholas A.
United States
great for wrist pain
this helped tremendously with my wrist pain
02/06/2020
Matt
United States
The Best Supplement You Didn't Know You Needed
I didn't think I needed joint support, until I started taking joint support products. I have tried atleast 8 different brands, and I keep coming back to Gaspari Proven Joint. Let me be clear, I use supplements from multiple companies - but Gaspari makes the best protein powder around IMO (Proven Egg) and Proven Joint is hands down the most reliable and effective joint and ligament repair product I have ever used. I don't care how old or young a lifter is, your joints will wear down over time. Squatting will become harder, your knees will become achey, and lifts won't be as great as when you were younger. Keep the joints healthy and optimized for repair, so you can lift hard and heavy for as long as you're able. I wish I knew about this product when I was younger. You will notice a difference in your knees, elbows, shoulders, etc... within a matter of weeks. 10/10 rating. The pills don't taste great - but if the trade off is 10 year younger joints, then I'm not complaining.
02/06/2020
Chris K.
United States
Great Joint Aid
After 20 years in the Army, I suffer from some serious arthritis and joint pain. I found over time that Curcumin does the job well for me. Dougefresh93 hooked me up with Proven Joint over on PricePlow, and I gladly gave this a 30 day run. Honestly, most joint products in the past just cause me to swallow more pills and never seem to do that much. Well, After about 10 days on this, my joints felt great until the end of the bottle. No issues anywhere, my wrists usually are a tell tale sign. I have since been off of Proven Joint for 2 days and yeah the normal aches and pains came right back. This worked very well for me, and I am glad I got to try it out. If you are looking for some joint aid, look no further, this stuff is amazing. I will be ordering more for sure. I took 3 pills with breakfast and it worked perfectly. Give it a shot you will not be disappointed.